4 in 1 mp3 flash drive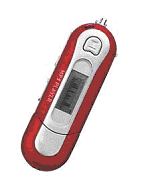 Check more detail here
This new fantastic product combines USB flash drive, MP3 player, FM radio, and audio recorder/playback 4 in 1. The flash memory size is either 128 or 256 Meg bytes. Some models have 512 Meg bytes also. An average MP3 song is about 4-5 Meg bytes. So 256 Meg can hold about 50 MP3 songs. The MP3 Player can show the lyrics on it's LCD display while the MP3 song is played back.

This product comes with a necklace style earphone, and the product hang as a pendent. It is seeing as a new fashion for just about everyone. It uses one AAA battery only, lasting about 10 hours for continuous MP3 play back. This is a very cool computer peripheral.

A sales person can use it to play his favorite MP3 songs on the flight, to store his powerpoint presentation in the flash memory and to record his meeting with the clients. College students will have great use on campus for file transfer and music, even for recording a lecture if not able to make to a class.